The Revenue in Music Webinar, presented by Ruben Rosario (aka Rez Vidal), is to help independent musicians become aware of some of the income sources many indie artists overlook. These include the following: 
Music Sales (Physical vs. Digital) 
Performance (Booking) 
Merchandise (Event vs. Website) 
Royalties 
Licensing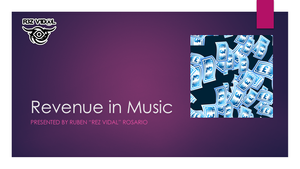 Technology is working in support of independent artists being able to rely on their art as a fulltime source of income; however, they have to be smart about it. This webinar explains the sources of income that can make a difference between a musician quitting or realizing their full potential in the entertainment industry. Additionally, Ruben provides integration tips and contact information for companies to help independent artists plan and act on capturing revenue they are missing by not knowing.

Be sure to like and share this webinar with independent musicians, and subcribe for more videos and tips on the music industry, public relations, and marketing.

The following are a list of companies that work with independent artists:
As I Breathe 
was produced and recorded by Rez Vidal and is available on Rez Vidal's
#GlutenFree album
, available through most online distributors. 
References
Watson, K. (2016, May 27). IMS Business Report 2016 An annual study of the Electronic Music industry. Retrieved February 12, 2017, from http://www.internationalmusicsummit.com/wp-content/uploads/2016/05/IMS-Business-Report-2016.pdf

Bumbiere, E. (2017, April 12). How To Make Money Doing What You Love. Retrieved April 16, 2017, from https://www.printful.com/blog/how-to-make-money-doing-what-you-love/#more-3501

R, C. (2012, February 02). 4 Income Streams from Music Licensing. Retrieved April 16, 2017, from http://diymusician.cdbaby.com/music-rights/4-income-streams-from-music-licensing/

​​​​​​​
Save
Save