The lights dim, and the crowd murmurs as he takes the stage. The familiar house beat—four on the floor, accented with snare and hi-hats, comes in, driven by the familiar bass that sets the tone and mood of his brand of post-apocalyptic, horror house, that begins the rhythm and buzz on the dance floor, driving the crowd to dance. Smiles and cheers go round the floor as fans shuffle and groove to the beat, mesmerized by the otherworldly tones.  
This is a BLOODTONE show, but it is not just any BLOODTONE show. This is the first time BLOODTONE will play in Florida, and he is coming to Los dos Plebes Night Club, brought to you by Manifestation Empire and Jo Jo Productions. You get to be part of this experience on December 29, 2018.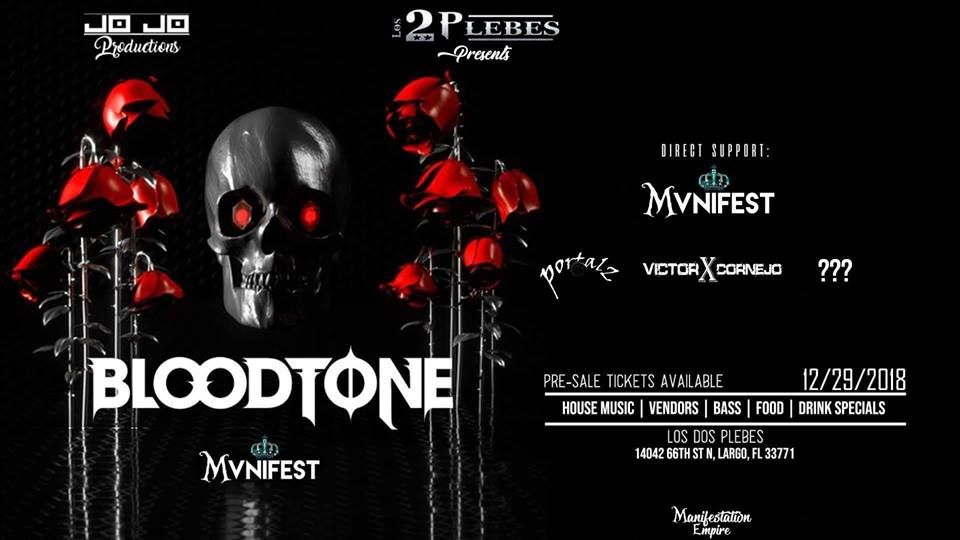 Direct support will be provided by Mvnfest, Portalz, and VictorXCornejo. There are some surprise guests that may play, but I can't give everything away. You can come party with us, and bring some friends. 
Be sure to give BLOODTONE some love on Twitter, and check out Manifestation Empire on Facebook to find out the hottest shows coming to the Tampa Bay Area.
Follow me on Facebook, and I'll keep you updated on the latest shows and newest music.